Hall of Fame – 2023 Inductees
WyoTech Hall of Fame Inductees
John Alonzo
John is the Racing Operations-Marketing Director for the Race Shop at Scoggin Dickey Parts Center in Lubbock, TX. The Race shop is an in-house premier machine shop specializing in high performance engines. John is working at his dream job and gets to showcase his company's product at the racetracks.
He has been racing for almost fifteen years. His passion for the automotive industry started at a young age. His uncle, Roel, owned an automotive shop called Magic Tune and drag raced his 1972 Vega.
March 10, 1991 was the day his dad took him out to watch his uncle compete, and he hasn't stopped thinking about racing since. He was fortunate enough to spend several summers working in the shop, going racing and learning from him.
Fast forward to his junior year of high school, and first year in the Automotive Tech program, his instructor, Mr. Goen, who had been there for several decades, touched multiple lives and spread his knowledge to whoever would listen. He was the first person to speak to him about attending WyoTech. After the local rep spoke to his class, Mr. Goen pulled him aside and said "You really ought to think about that school. A kid like you could make a good career in the automotive field."
Unfortunately, Mr. Goen passed before his senior year, but his words stuck with John. He enrolled at WyoTech in the summer of 2005 and moved to Laramie that fall. Over the next 12 months, WyoTech instilled knowledge, punctuality, and a strong work ethic in him.
The school held its students accountable for their actions and held them to a high standard that ultimately prepared him to succeed in the workforce.
Career Services helped create resumes and he sent his to every NHRA drag racing team he could. 30+ resumes every month for 3 months prior to graduation. After graduation, he couldn't hold out any longer and was able to get a job for Group 1 Auto tech at their chevy store back home in Lubbock, TX.
That said, his heart was still calling him to the racing world. He continued to send out resumes, especially to the local engine shop Sunset Race craft. He dropped a resume off every week for months until Tracy, the owner, called him and said he didn't have a position open, but could come help him after hours. He was beyond excited and went every night after work! He was finally working on race cars, even if he wasn't getting paid. After several months, he was offered a full-time position. He was fortunate enough to spend 8 years of employment under Tracy until his passing. He gave John an opportunity and his start in the racing industry, and for that John is forever grateful. These 3 special men along with his family, wife and friends believed in him, and WyoTech taught him to believe in himself! To bet on yourself and to forge your own path.
When we asked John what advice he would give to people entering the trades, here is what he had to say:
Believe in yourself.
Enjoy the process and the path that it leads you to. Arrive early-stay late, do what must be done and hold to the vision until those sacrifices pay off. Love it – Learn it- Live it.
Jessi Combs
(07/27/1980 – 08/27/2019)
Born in Rapid City, South Dakota, Jessi Combs found a love for speed and its machines at a young age. She became a welder, fabricator, builder, racer, artist, entrepreneur, and trailblazer.  She was fearless, boasting, "I will try everything at least twice…  I wouldn't want to be jaded by the first attempt."  
Jessi attended WyoTech in Laramie, Wyoming where she studied Collision/Refinishing, Chassis Fabrication, Street Rod Fabrication, and Trim/Upholstery. She graduated top of her class in 2004 with a degree in Custom Automotive Fabrication and accepted her first job from the trade school's marketing department to build a custom car with Ben Bright to represent WyoTech at the Specialty Equipment Marketing Association's (SEMA) show and charity auction. This project paved the way for Jessi to appear on Overhaulin' as a guest fabricator and launched her career in television.
Jessi was co-host of Xtreme 4×4 on Spike TV and created 90+ episodes over four years. She honed her skills as a TV host while maintaining her integrity as a metal fabricator, builder, and industrial artist, which earned her additional appearances on countless, high-caliber series, such as Mythbusters and All Girls Garage.
  Throughout her career, Jessi fostered relationships and worked hand-in-glove (literally) as a product expert and brand ambassador, even as the official spokesperson for the American Welding Society (2008-2013).  Her experience led to a partnership creating the first full line of women's welding equipment with Lincoln Electric in 2008. Jessi maximized this opportunity with a signature polka dots welding hood for women that would educate others of the role women have played in skilled trades through history and inspire the next generation.
Jessi proved a fierce competitor in auto racing where she stacked the first podium finishes and titles for women in multiple events since 2011.
Ultra4's King of the Hammers crowned her "Queen of the Hammers" with first-place finishes in 2014, 2016, and most notably in 2018 with her custom-built Jeep, "Goldie Rocks." (Goldie Rocks is currently being showcased at WyoTech). Jessi switched gears in race environments with successful pursuits in the Baja 1000, the Race of Gentleman, and many more.
Jessi broke stereotypes and records by joining the North American Eagle Supersonic Speed Challenger team in 2013 when she became "The Fastest Woman on 4-Wheels" at 398 mph with a top speed of 440 mph. Returning to the Alvord Desert in 2019, she set a new Women's Landspeed World Record at 522.783 mph before the accident that took her life. Filmed over six years, the epic journey and monumental feat have been memorialized in the HBOmax documentary, The Fastest Woman on Earth.
  Jessi owned a metal fabrication shop, penned the illustrated children's book, Joey and the Chopper Boys, and parlayed a brand partnership with Theresa Contreras in pioneering women-led workshops through The Real Deal Revolution, an educational experience continued in proud partnership with The Jessi Combs Foundation to fulfill Jessi's mission to educate, inspire, and empower the next generation of women trailblazers in skilled trades and the automotive industries.
When we asked The Jessi Combs Foundation what advice they would give to people entering the trades, here is what they had to say through the lens of Jessi Combs: "Chose a career that you enjoy, and you'll live a happy and fulfilling life! Forget what society tells you is the norm, you can make a living doing anything you want as long as you have passion for that craft, remain focused and determined and get the education and certifications that will give you confidence.  I research, restore & race vintage race cars for a living, that's insane but it's real!  I didn't get here with money or a famous last name, I worked hard and produced results against all odds. I never took an easy route, I simply stuck to it and never gave up." – Jessi Combs, WyoTech Class of 2004
Levi Green
Levi is not here to join us today, as he had prior commitments. We will share a message from Levi after we introduce him.
In Levi's Junior year of high school, he knew what he wanted to do with his life, and with his career after seeing an ad for "Hot Rod University" in an issue of Street Rodder Magazine.
After graduating high school in 2000, he began his journey to Laramie, Wyoming to become a "Techer."
Prior to enrolling at WyoTech, he had very limited experience with metal working or working on hot rods. He grew up on a 440-acre farm in rural Missouri and tinkered with his 1958 Apache truck which was gifted to him by his uncle.
Levi and his dad had plans to work on the old truck and learn to do the metal work on their own, but his skills were not up to par for the task. Though they both had plans and visions for building this truck, they were not on the same page.
His dad wanted to restore it, and he wanted to hot rod it! Needless to say, the old truck followed him out to Laramie where he was able to use it as a class project to hone in on his skills. He was able to do a front frame stub conversion from Trans Am and a custom C-notch in the rear, as well as widen the rear fenders and a few other small body mods.
At the end of the course, the old truck was looking much cooler and closer to what he had envisioned from the start, and WyoTech was just the beginning.
Now that he had some actual training experience under his belt he was determined to get a job working for one of the top shops of that time. He sent 50 resumes to shops all over the country including, Boyd Coddington, Chip Foose, Posies, Pinkees, Ida Automotive, Tucci engineering, Wood N Carr, and Rad Rides by Troy, just to name a few. All of which replied, "No thanks, but good luck." He ended up getting a job working for a small collision shop in Merriam, KS which also did some hot rod work in the back. This is where he was first exposed to a "real job."
This shop was gracious enough to deal with his lack of experience while teaching him even more along the way. One of the first "hot rod" projects he got his hands on was a 1959 VW Truck. He did all the rust repair, body work, primer, and even the green and purple paint job. The only thing he didn't do was the wet sanding and buffing.
There was a custom bike paint shop just down the alley where he would spend his lunch breaks, hoping for the chance to do even more with paint. He wanted to know the whole process from start to finish. The guys at the bike shop helped with some custom paint tips, clear coating, and yes, wet sanding and buffing. He got a part-time "night" job working for V8 rod shop in Blue Springs, MO.
Tony Vargus was the owner and seemed excited to have a young kid with some talent.
He was the first guy to turn him loose and let him be creative. He helped Levi get a job at Carriage Works in Grandview, MO where he excelled at TIG welding billet grilles.
The KC World of Wheels car show was in town and Tony had a couple of cars on display he helped with. He also brought with him every picture he had taken of his work (this was before smart phones when you still had to develop film and carry an album around).
He was also armed with every TIG sample weld coupon in his coat pockets (probably no metal detectors either).
Rad Rides by Troy was the feature builder at this event with the car they built called "Chicayne." It's a 1962 Chevy Biscayne with twin turbos, and is to this day one, of the nicest cars ever built. He approached Moose, Troy's right-hand man, about the opportunity to come work at their shop in Manteno, IL. He was familiar with their high-quality builds, seeing them in Hot Rod magazine and many others. The centerfolds of Troy's cars are what made up the wallpaper in his room back home. He ended up getting a job working at Rad Rides by Troy in Manteno, IL in the spring of 2003. He worked for Rad Rides for 8.5 years and learned a ton becoming an expert at his metal shaping craft. He learned the importance of details, precision, deadlines, and being the best….
When we asked Levi what advice he would give to people entering the trades, here is what he had to say:
When you get turned down for an opportunity, there is a better one around the corner.
Don't wait on everyone around you to approve of what you know you need to do. Chase after what God has put you on this earth to be great at.
Don't expect to be a rock star overnight. Be diligent, take one step at a time. It took me 20 years to get where I am today.
Don't give up, keep getting better, and move forward no matter what! Success isn't easy. You will face adversity. Find a way to embrace the suck and stay positive!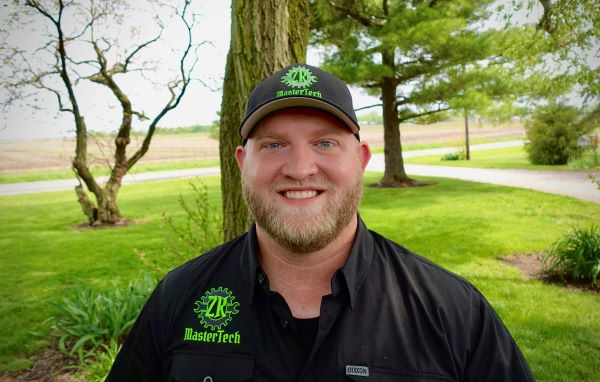 Zeth Key
Zeth Key grew up in Sullivan, IL, where he went to Sullivan High School. His interest in working on cars started when he bought his first car, a 1977 Chevy Nova, a car he worked on with his dad.
In high school he took automotive technology classes and mentored at a GM/Chrysler dealership called HPR automotive.
A WyoTech recruiter came to his class to present about WyoTech, and went home enthusiastically telling his parents about WyoTech. That summer his parents took him out to visit and he was sold.
He graduated high school and decided to work for a year and save up some money so he and his high school sweetheart, Dawnaya, could get married after she graduated from high school and move to Laramie.
They got married at 18 and 19 years old on June 3, 2006 (HAPPY ANNIVERSARY).
Together they learned how to navigate married life 1,200 miles away from home in a small basement apartment in Laramie. In June of 2007, Zeth earned an associate degree in automotive technology, Chassis Fabrication, High-Performance Engines, and Business Management.
He achieved a 4.0 GPA, Perfect Attendance Award, Shop Leader Award, and was a recipient of the Outstanding Academic Achievement, and Leadership Award.
After graduation, Zeth and Dawnaya moved back to Sullivan, IL where he got a job as a service technician at HPR Automotive. He worked there for three years and got his Master ASE certification.
After the economy crashed in 2008, he changed his career path to better support his wife as she went to college. In June of 2010, he joined Sloan Implement in Atwood, IL to start his career working on John Deere Ag equipment.
He quickly fell in love with the green iron. After working there for six years and countless training hours, he earned his Master John Deere Service Technician certificate. In April of 2021, in honor of his best friend Jake, who passed away from cancer, he started a YouTube channel to promote the trades they both loved.
He wanted to show the world the technical side of agriculture and what it takes to keep the farmers running and inspire a younger generation to pick up a wrench and start a great career.
Zeth said "I never thought that it would explode in popularity as it did. In two years, the channel grew to 63,000 subscribers and 8 million views."
He had to teach himself new skills in videography, video editing, and marketing. Through this channel he can promote John Deere, Sloan Implement, and WyoTech.
He has brought technicians into his dealership because of the YouTube videos and has had the privilege to inspire people from all over the globe to become Ag technicians. When he's not at work keeping that green iron moving, helping to feed the world, you can find him at home spending time with his wife and two beautiful children, Zeryk and Zeya.
When we asked Zeth what advice he would give to people entering the trades, here is what he had to say:
Be the best student you can possibly be and set high goals. This will help you develop the correct mindset you need to become successful in the future and add value to yourself.
Learn how to be resourceful enough to teach yourself. You can't be told how to fix everything. You need the ability to read the theory of operation and understand how the system you're diagnosing works. Apply that knowledge to correct the problem. The quicker you become an independent thinker, the faster you will rise to the top tech position.
Understand you will not know everything when you graduate from school. You will need to humble yourself and treat every day as a learning day. Listen to the experienced techs and learn everything you can from them.
Develop great working relationships with people. One day it will come full circle to where you are teaching them new things.
Take your blinders off. Just because you graduated from the automotive program, doesn't mean you can't be a diesel tech, look at me. Learn how to be a great tech and you can apply that to any industry.
Randy Svalina
Randy is a local ranch kid who went to a one-room school in the mountains until attending high school in the town of Wheatland, WY, an hour away.
He hated school and swore he'd never return to a classroom after graduating in 1984. He climbed on the back of a horse, ranched, guided hunters & wildland fire crews. Somewhere in there he got the race car bug and a handful of people encouraged him to pursue his love of cars.
He found himself at WyoTech in January 1989 to learn how to put his passion for art and cars together! Collision/Refinishing/Custom Paint was the best way to do this. He graduated in June of '89 with high grades and perfect attendance, which was a surprise to his family, especially his wife Stacy!
His dream at that time was to build street cars, show cars, and see his work in magazines, a goal he was blessed to see come to fruition before his priorities shifted.
After 8 years of working with a close friend, January 1997 he returned to WyoTech as an instructor, largely for the purpose of building his own custom shop while keeping paychecks rolling in! 10 months later the shop was completed, but his new-found love & passion for teaching was just beginning.
He discovered that his own skills could impact the specialty automotive industry regionally with one car at a time, but by teaching others, he could impact the industry on a much broader scale.
More importantly, Randy says teachers can affect the lives of students, which in turn impacts their future families and communities. He calls it 'discipleship on tires!'
If the only thing you learn from a teacher is the curriculum, they have failed you.
What he once did with his own hands was cool, self-gratifying, paid well enough to live a good life, and seemed great until he learned of something far deeper: As Randy puts it, "As a part of WyoTech, we help others reach their goals, their dreams, raise their families, and succeed in their journey."
As a student he had 2 instructors who profoundly impacted him. One showed him just how much could be extracted from a student when they were pushed to their potential. From the other, he learned what it looked like when he genuinely cared about his students and their wellbeing. Randy prays that he never forgets either of those lessons.
Years later, he was able to teach alongside both of those teachers and share in their passion for the industry.
His journey includes a terminal cancer diagnosis in '02 along with many other interesting detours. His family loves motorsports and has a multitude of cool projects ongoing. His oldest daughter Kaycie is a WyoTech graduate succeeding in the industry. His younger daughter Ashley is off to a trade school for Culinary Arts. They enjoy hunting, ranching, and all things outdoors.
They enjoy serving others however they can and feel blessed to be a part of an on-campus Bible study and ministry team. He loves WyoTech, and the students and staff that make it up!
When we asked Randy what advice he would give to people entering the trades, here is what he had to say:
Show up, Work Hard, Have Faith. Do these things, and the rest will fall into place.
1 Thessalonians reminds us to "…aspire to lead a quiet life, to mind your own business, and to work with your hands…..".
If we've learned anything in recent years, it's that those who simply show up on time & are willing to get dirty will always have a job. It doesn't matter HOW smart we think we are, we still need people who can DO things!
Remember that everything you do has your fingerprint on it, and is worthy of your effort, your skill, and your heart.
Leave your mark on the world one task at a time, one life at a time.
Live your life with integrity and always try to put a smile on those you encounter.
Be who you needed when you were young.
Enter the workplace daily living out Philippians 2:3-4 "Let nothing be done through selfish ambition or conceit, but in lowliness of mind let each esteem others better than himself. Let each of you look out not only for his own interests, but also for the interest of others." In other words, have the heart of a servant towards those around you. God Bless!!
Dave Gilley
From a very young age Dave always enjoyed working with his Dad in the garage. Working on his car, a 72′ Trans am, he always tried to learn as much as he could about as many different parts and pieces as possible.
At 13 years old, 2 weeks into Highschool he lost his mother to alcohol and drug abuse. He grew up in a very troubled home and would use work to escape. He started working at Harper Precast in North Salt Lake in the summers cutting rebar, welding various assemblies and doing minor repairs on equipment for all his summers. He used to get in trouble during the school year because he'd sluff his classes to hangout in metal shop and work on projects.
By the time he was old enough to drive, he saved up, and bought an f150. He would leave around 3pm each day after school to head back to Harper and sometimes work until 9-11pm at night running bobcats, welding cat walks on cement plants, building different assemblies for different jobs and just all-around general metal work. 
It was his junior year in high school he came across a WyoTech Rep named Kim T Miller who gave our vocational welding class at Jordan Applied Technology Center a presentation on what WyoTech was all about! He had mentioned high performance power trains, street rod, collision, heavy duty diesel, and at last he mentioned Motorsports chassis fab. Right then he was hooked and knew that is what he wanted to do for college. 
Dave continued his studies in welding until he graduated Grantsville Highschool in 2010. He was all signed up and ready to head for Wyoming two weeks after finishing high school and couldn't wait!
He remembers driving to Laramie for the first time very vividly. There was absolutely nothing out there for about 350-400 miles and only a small town or pitstop every 100 miles or so. He arrived, had orientation, and was extremely intimidated as he was one of the youngest in his class at 18 years old and in new surroundings. He'd never been away from home.
After a tearful farewell with his Father he headed for campus courtyards, got moved into his dorm, introduced himself to his roommates and thought just how wild it was that his first day was tomorrow.
Dave recalls his first day in class as pretty good. He got to meet his instructors for EMS, Larry Wostenberg and Rusty Meranda. Both were Awesome! He had remembered asking them what all the grey shirts were about. They informed him it was the eagle tech program and that you had to be nominated for that based on good attendance, high scores and awesome work ethic.
That class was amazing and in two months, Larry had nominated him for eagle tech. He was extremely excited, very happy as he had hit his first milestone. He had perfect attendance, perfect test scores and felt like he was humming along. After phase one, he made it to Chassis and drivetrain, his instructors were Eric Paul, Jarrod Wheeler and Thomas Wilber.
They learned how to do brakes, chassis components, various suspension parts, transmission nomenclature and many other things. He got his Snap-On ethos Certs, and Atra certification. During his time in drivetrain, he was offered a unique opportunity to compete with his high school team in FFA nationals as they had previously won state during his time in high school. He approached the campus director at the time, Caleb, and made a deal with him that if he finished all of his comps and kept his grades up WyoTech, would he let him attend nationals in Indianapolis for a week. This was unheard of as normally you would hour out after missing so much time, he recalls.
He went to compete on the national level for FFA and won first place in welding and Energy systems. He returned to Caleb's office the following Monday and delivered a couple pins and Gold metals. He was super proud and agreed to honor his perfect attendance for the phase. For the record, Eric Paul said hell no and still owes him a red pin to this day. He still has his collection too.
Finally, it was time for Chassis Fabrication and his mind was blown. He had finally made it to the last class of WyoTech and it was by far the best. His instructors were Bryan Steinbock, Joe Shalkowski and Rick Junkermeier. He expressed the early days of chassis fab as feeling he knew his way around the tools, equipment, and metal work in general. He passed most of his welding comps within the first few weeks and moved straight to custom projects. He had built his own engine stand, tube notcher, Bender, and a few other odds and ends. He remembers working on Ricks Buggy project, mounting an LS with trans up in the frame, and helped build a few lotus 7 chassis with a few other students. 
They got a lot done in those short months and learned a ton and he was hooked. One day Randy Svalina, (one of the absolute best men to walk the earth, Dave says) came in and informed him that he had been selected as the valedictorian speaker for his class at graduation. He had accomplished one of the highest honors that was offered at WyoTech, along with NTHS, and a few others. After he graduated from school, he packed up, said his goodbyes to all the friends he had made in Laramie and headed back to Utah.
He started working for a shop called Proffitt's Cruisers at Miller Motorsports Park building nothing but Toyotas.
He had a decent time there, learned a lot, and after two years he was let go as they were closing down the Utah location. Fast forward to May 15th of 2013 he had a good friend named Randy Hunt offer him a 3600 square foot shop in the boonies on 1 acre in Grantsville Utah for $1200 a month. 
GILLEYFAB was born. He had no idea how to run a business back then, and had even less in money and equipment, but he made do with what he had. Everything from trailer repair, random metal, handrail jobs, and finally started working his way into sports cars, UTVs, crawlers, race cars, full tube chassis builds. You name it he tried it. He struggled about 5 years, went through a few girlfriends who didn't believe in him, and what he was trying to do.
He failed at some projects, won massively on others and just kept his nose to the grindstone working day in and out. He is proud to say today he has a wonderful facility, filled with amazing people and equipment, and he had the absolute pleasure of connecting with Randy Reyes who is the owner of the very Popular Randy's Transmissions. He is an industry leader in Diesel performance transmissions and Randy has been helping him now run a successful business.
He can now utilize his talents to design some of the absolute best parts, cages and components on the market. Gilleyfab Enterprises is now known for top tier fine quality fabrication in the UTV industry. He's been in business for over 10 years now and is not slowing down. He is very thankful to WyoTech and all the wonderful people who helped him along the way to get him where he is today! 
When we asked Dave what advice he would give to people entering the trades, here is what he had to say:
Always do your absolute best.
You will fail, however learn from failures and turn them into lessons. Some will absolutely hurt, but always turn the negative energy into a positive and make the best of it.
Constantly set goals, build your skill set, become confident, but not cocky, and when you do produce quality, stay humble.
I'll leave it with a quote. "Always compare yourself to who you were yesterday, not to who someone else is today." -Dr. Jordan B Peterson.