Applied Welding Technology
A Hands-On Applied Welding School
Get hands-on training in a wide variety of welding techniques!
The welding industry is in dire need of welders, and there's no sign of it slowing down. This is where our Applied Welding Technology program comes in. From structural welding to pipelines, you will learn how to fabricate and weld on various metals in multiple welding positions. With 70% of your time being spent in the shop doing real work, this program is built to have you in and out the door within 6 months. Learn from industry professionals and graduate with hands-on skills that you can take almost anywhere in the world.
70% of your time will be spent working in the shop!
What makes WyoTech different?
Here at WyoTech, it's in our DNA to give our students the best training possible. Our Applied Welding Technology program is built so that students get hands-on experience, not just learning the different kinds of welding but also learning how to use them.
Our curriculum is built by some of the top professionals in the industry and customized to project-based welding- giving you the opportunity to gain the welding and fabrication skills to enter nearly any area of the welding industry. From shipyards to fabrication, heavy equipment to pipelines, not to mention so much more, you will graduate with the skills you need to perform with excellence in the welding field of your choice.
Your program will consist of
Basic Welding and Oxyfuel Cutting
Wire Fed Welding and Gas Tungsten Arc Welding
Pipe Welding and Weld Inspection
Metal Fabrication and Economics
Get more details on each course below.
Demand for Qualified Welders in the Industry is Skyrocketing

The skills you gain through our Applied Welding Technology program you can take nearly anywhere in the world. The need in the welding industry for qualified welders is at a high demand, giving you the opportunity to take your skills wherever you want. Connect with our career services team to help with job placement and see what opportunities are available!
$47,540
U.S. Median Wage (2022)
6,000+
U.S. Job Openings
(2022-2032)
1%-3%
U.S. Job Growth
(2022-2032)
Basic Welding and Oxyfuel Cutting
In this phase, you will learn the value of the welding industry and how to get started. These first six weeks will have a focus on shielded metal arc welding (SMAW). We will teach you the common welds, shop practices, personal protective equipment (PPE), and welding safety used in the industry. You will cover everything from design and set-up to the proper techniques to produce fillet and groove welds in the flat, horizontal, vertical, and overhead positions. We will also teach you the different types of welds, weld joints, basic metallurgy, fixturing, and inspection methods. You will learn all of this and more in a practical sense, getting an introduction to the economical side of welding, including proper weld sizes, cost-saving procedures, and other shop applications to maximize production value.
Theory, PPE, & welding safety
Various cutting methods & gouging
Blueprint reading, weld symbols, metallurgy
Shielded Metal Arc Welding (SMAW), welding positions
Wire Fed Welding and Gas Tungsten Arc Welding (or GTAW)
In Phase II, you will be introduced to both the theoretical and practical knowledge of Gas Metal Arc Welding (GMAW), Flux Cored Arc Welding (FCAW), and Gas Tungsten Arc Welding (GTAW). You will cover the ins and outs of the principles of the wire-fed process (GMAW and FCAW), including the proper set up of equipment, power sources, proper welding techniques, shielding gases, and more. Learn the difference between self-shielded and gas-shielded welding wire, as well as the differences between types of steel and aluminum welding. You will cover the use of environmental atmosphere controls, advanced heat controls, various consumables, and much more.
Gas Metal Arc Welding (GMAW) – MIG
Flux Core Arc Welding (FCAW)
Gas Tungsten Arc Welding (GTAW)- TIG
Concepts of structural welding, welding codes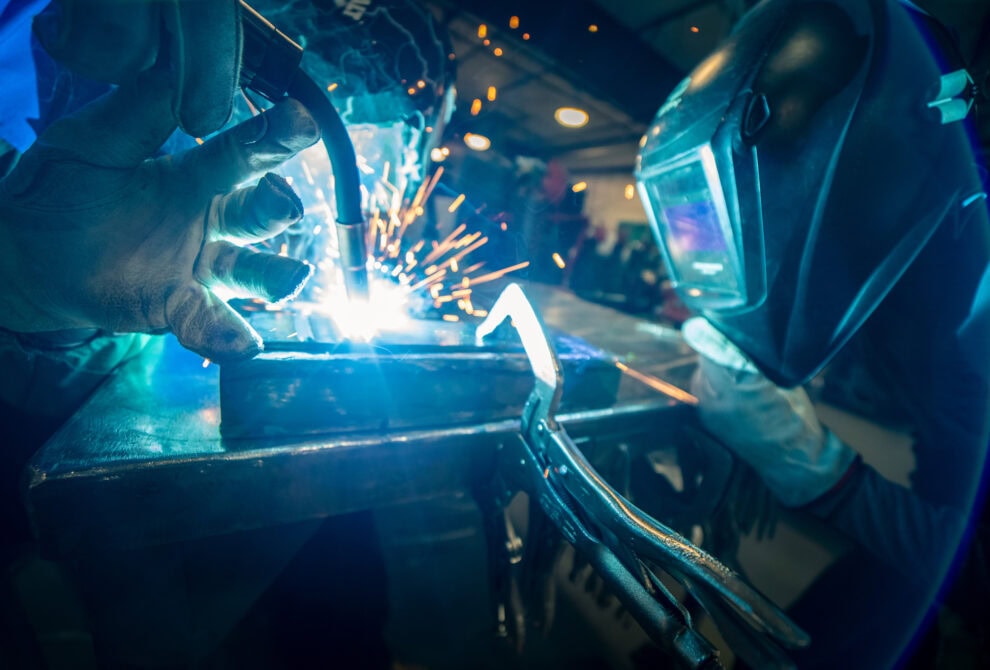 Pipe Welding and Weld Inspection
This phase will teach you the secrets to pipe welding. We will teach you how to pipe weld with skills that meet industry standards and use techniques to weld confidently in five different positions. You will learn the processes of pipe welding and gap sizes, structural requirements, and the internal reinforcement of a good pipe weld. We will cover the different functions and specific uses of manual welding equipment, prepping and fitting pipe coupons, and welding certification requirements.
Pipe welding codes up to industry standards
Pipe welding processes and welding positions
Weld tests: destructive / non-destructive
Industry job opportunities
Metal Fabrication and Economics
Phase IV is where you put your welding and fabrications skills to use.  Students will be guided through the custom fabrication process while building a class-based capstone project. You will gain a thorough understanding of the skills and equipment necessary to perform in the industry with excellence, and learn to build a project using supplied shop drawings, measuring devices and instruments, and metal fabricating tools. Top off your skills in this program by learning the basic economics of the industry as well, such as how to calculate operability costs, productivity, and efficiency.
Measurements, jigs, and fixtures
Production welding
Calculations and process improvement
Capstone project / workforce preparation
"WyoTech prides itself in not offering cookie-cutter curriculum. The welding program is no different. WyoTech hand-picked the world's top welding talent to support the development of our curriculum."
– Shawn Nunley, Vice President of Training at WyoTech
Program Start Dates
April 1, 2024

June 28, 2024

September 27, 2024
Welding Tech FAQs
What is the tuition for the Welding program?
Tuition cost is $27,500.00 for the 6 month welding program. Student housing is an additional cost.
Will equipment be provided?
A. Yes, all welding tools, equipment and PPE are provided to students.
What job opportunities are available if I take this program?
The welding career opportunities are endless. Structural, pipe, and fabrication opportunities are available throughout the U.S and across the globe.
How long does it take to become a welder?
With the proper skillset, a student can become a qualified entry level welder in our 6 month Applied Welding Technology program.
What projects will we be building?
How much classroom time is there?
About 30% of the instruction is in the classroom with 70% being in the shop.
Is there any virtual training?
There is no virtual training for this course, training is provided through our on-campus instructors either in the classroom or in the shop.
Can I work on my own projects?
Potentially, after students finish their class competencies and projects, there may be opportunities for them to work on a personal project.