9 Months to Career Ready
Buckle up and get ready to pave your way at WyoTech, nestled in the vibrant town of Laramie, Wyoming. We are a destination school for future technicians pursuing full-time training in Automotive, Diesel, or Collision & Refinishing Technology. Pair your core training with one or more of our six specialty programs in Street Rod, High-Performance Power Trains, Applied Service Management, Chassis Fabrication, Advanced Diesel, and Trim & Upholstery.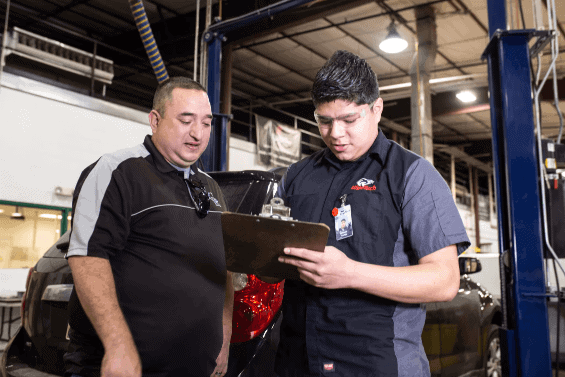 The Automotive, Diesel and Collision and Refinishing Trade School Focused on
Your Growth
Fuel your passion in the ever-growing automotive industry with an education from one of the top auto trade schools in the country. We are proud to help prepare our students for their career with knowledge and experience that will launch them into the heart of the automotive world. We've been training students since 1966; it's time for you to join the crew.
Choose a Core Program That Ignites Your Passion
Each core program at WyoTech is designed to steer you in the right direction for a career that relates to your interests. Take your pick at the three programs we have to choose from. Rev up your engine and get started!
3-Month Specialty Programs
WyoTech students select a 3-month specialty program to pair with a core program as a requirement for attendance and graduation. Choosing a specialty program gives you an advantage in the automotive industry by giving you knowledge in any of the six programs.
Why is WyoTech a better school?
More hands-on experience, with 50% of time in the shop.
Our curriculum and core values are more attractive to employers.
Industry certifications will advance your trade knowledge.
Know your brand.

Forge your path.
With over 55,000 graduates, you can rest easy knowing you'll get the training you'll need for a career in Automotive, Diesel, or Collision Repair & Refinishing.
Virtual Campus Tour
Take a virtual tour of our campus in Laramie, Wyoming.
Explore Scholarships
Attend WyoTech with a scholarship. Check out these scholarship opportunities.