Where do I live while I'm going to school at WyoTech?
WyoTech offers three student housing options: Campus Courtyards (on campus), Fall Creek (off campus) and Downey Apartments (off campus).
Campus Courtyards
Campus Courtyards are 4-person suites, with the option of a shared or private bedroom (as availability allows). Take a virtual tour below, or schedule an in-person tour today.
Fall Creek
Fall Creek units are furnished 4-person suites (3 bedrooms, 2 baths). They're 4 miles from the WyoTech Campus.
Downey Apartments
Downey units are furnished, 2-person suites (2 bedrooms, 1 bath). They're 5 miles from campus.
(Note: There are no units in campus-managed housing where students will have their own apartment. While single-occupancy bedrooms do offer more privacy within an apartment, there will still be multiple students per apartment unit.)
What does WyoTech student housing look like?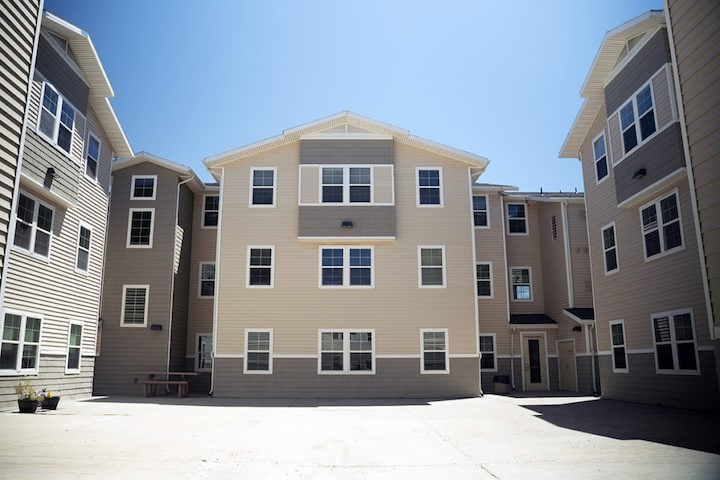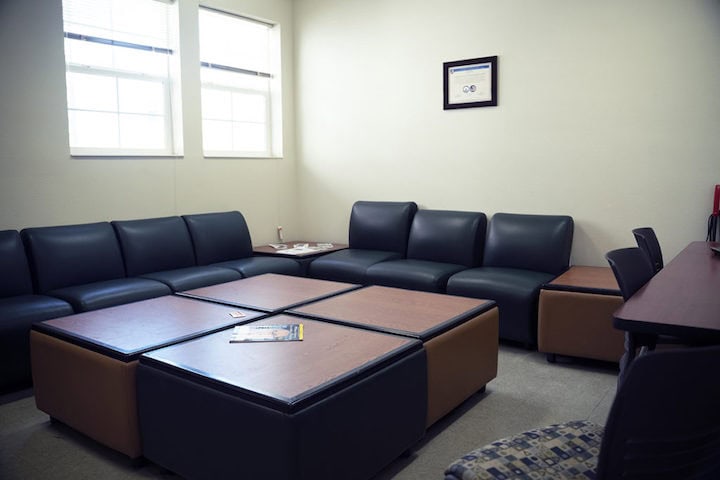 What are the benefits of living in WyoTech student housing?
The comforts of home. The freedom of having a place to make your own. Plus:
Rent that includes internet and all utilities (heat, water, sewer, garbage, general maintenance)
Leases that match the length of your WyoTech enrollment
Access to WyoTech's 24-hour, on-call emergency maintenance service
Living with people who share your interests and goals
What are the rules for living in WyoTech student housing?
We cover some of them in these Frequently Asked Questions.
The rest of our student housing rules and policies are in the Housing Handbook, along with instructions on how to apply for student housing, details on what your rent will include, and more.
What do people do for fun in Laramie?
Right in town, or less than a 30-minute drive away, there's:
4-wheeling
Camping
Fishing
Hiking
Motorcycle riding
Mountain biking
Movie theaters
Off-roading
Rock climbing
Shopping
Skiing
Snowmobiling
Snowshoeing
Snowboarding
Downtown farmers market
Game days at the University of Wyoming
FAQ About Living On Campus
I want to live on campus! What do I need to do?
Once you're enrolled at WyoTech, your Admissions Representative will email you a DocuSign form titled "WyoTech Housing Application." Fill out the form, and follow the prompts to pay your required $350 damage deposit. Once you've submitted both the form and your damage deposit, you'll have a room saved for you in our housing.
What's included in my rent?
All utilities, including gas, electric, water, and garbage, and internet. You're welcome to upgrade your TV package and/or internet at your own cost; please see your Resident Assistant for details.
What's the difference between single- and double-occupancy bedrooms?
All apartments in our campus housing are designed as multi-resident suites. A single-occupancy bedroom means you share the apartment with other roommates but have a private bedroom; a double-occupancy bedroom means you share the apartment with other roommates, as well as share your bedroom with 1 more roommate.
Am I guaranteed my request for a private bedroom?
All requests for preferred roommates and unit types are filled on a first-come first-serve basis… so the sooner you have your housing application and deposit turned in, the better!
What if I have a question or need assistance outside of business hours?
Each area has at least one live-in Resident Assistant on call outside of normal business hours. We'll provide you with their contact information on move-in day!
Can I have an apartment all to myself?
Sorry, but no; we don't currently offer private apartments.
When can I move into my apartment?
Typically, move-in day is the same day as registration. Since we have classes starting and graduating every quarter, we use the few days in between to clean the rooms and make any repairs prior to new students moving in.
Is there on-site laundry?
Campus Courtyards: We have a laundry room in every building, on every floor. You can pay with a credit card or use the app, through which your family can load money to your account from home.
Fall Creek: Laundry facility in every apartment unit.
Downey Apartments: No laundry facilities on site. Local laundromat options are provided at registration.
I don't have a car; how do I get to school?
On-campus housing is located directly across the parking lot from the campus, so you won't need a vehicle to get to/from school. For those in off-site housing managed by WyoTech, carpool arrangements will be made at registration.
What's my address?
Your address will vary depending on which location you are assigned. Your exact address will be provided for you on registration day.
Am I allowed to bring my rifle/pistol with me?
Weapons are not permitted on or around campus and housing property. Violating this policy could lead to eviction and/or suspension from school.
What happens if I'm caught with drugs?
WyoTech has a zero-tolerance drug policy. If you're found in possession or under the influence of illegal substance, you'll be subject to immediate eviction from housing and possible suspension from school, as well as any applicable penalties from local law enforcement.
Can housing staff enter my apartment?
WyoTech respects your privacy, so unless there is reasonable cause for an unscheduled inspection, housing staff will only enter your apartment during announced, scheduled room inspections. We do these weekly to check for any maintenance items, as well as ensure compliance with housing regulations and local, state and federal laws.
What if I want to change apartments within housing?
It's allowed, as long as it's not during the first week or the last week of a quarter. You'll need to go through the housing office to make all the necessary arrangements.
Can I hang things on the walls?
Yes, it's okay to hang appropriate (not obscene) items within your apartment and bedrooms. Please use command strips or poster putty; if you use nails, tacks or screws, you'll be charged for repairs and paint when you move out.
Is there a way to plug my vehicle in during the winter?
Sorry, but no. Electrical outlets aren't available for use outside of campus housing, and it's against the fire safety code to run an extension cord across walking paths, out of windows or doors, etc.
Can I have more than one vehicle at WyoTech?
Sorry, but no. Only one vehicle may be registered per student, and it must have current license tags, be operable and street legal, and display a WyoTech parking permit. If you have an additional vehicle (project car, motorcycle, snowmobile, etc.), you'll need to make arrangements on your own to store it in a different location.
I'm over 21; can I have alcohol in my room?
No; alcohol and alcohol containers are NOT permitted on or around campus or housing property, regardless of age.
What's the policy on guests?
One (1) guest of the same gender can stay with you for up to 3 days with roommate and Housing Manager approval. (Ask your Resident Assistant about the approval process.) Any guests of the opposite gender must leave the WyoTech housing premises by 11 p.m., and no guests of the opposite gender under the age of 18 are allowed on WyoTech housing property at all.