Hot in the Shops- October 2022
October 20, 2022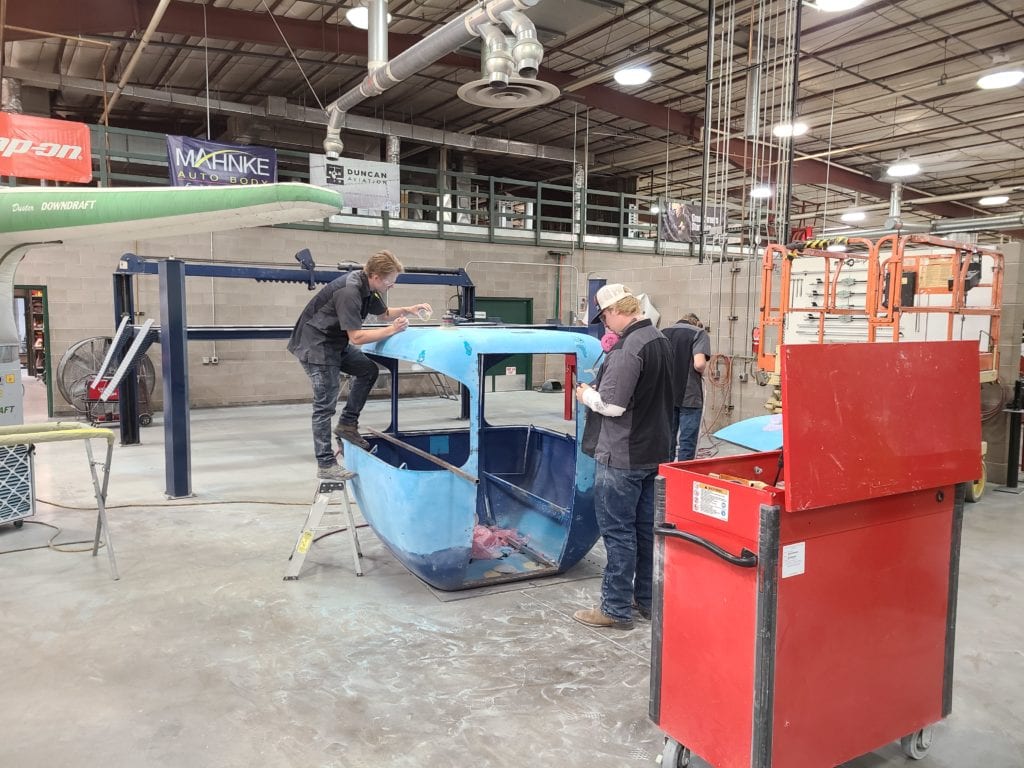 In The Shops
The shops here at WyoTech are hopping with action, projects, and hands-on, real-life equipment. Below are just a few things happening in the shops.
Jeff Robinson, a Collision and Refinishing instructor, says their class, which is in the middle of the Refinishing I phase, has been taking comp cars and prepping them for painting: finishing any bodywork, sanding, etc. Once they get them sealed and painted, they reassemble the car so they can finish the project. The Refinishing class has also been able to work on an instructor's project, redoing an old ski gondola, turning it into a hot chocolate house for Jeff and his family.
In Diesel, Bryan Shuster, an Engines instructor, says students are in the process of learning to rebuild an engine out of a Class 8 truck. They are learning about three different types of engines: CAT, Cummins, and Detroit, and cover everything from replacing injectors, adjusting valves, and pressure testing cooling systems.
In Automotive, Jasen Pedersen is supporting students on their work on the 4265 automatic transmission. The students get to do a whole tear-down and rebuild. In addition, the students will soon learn how to do a transmission removal and reinstallation on a front-wheel car. Theory and operation on a manual transmission, differentials, all-wheel drive and four-wheel drive, axles, U-joints, and more are being covered with these students.
About WyoTech:
Forge your path at WyoTech in Laramie, Wyoming. We are a destination school for future technicians pursuing full-time training in Automotive, Diesel, and Collision & Refinishing. Pair your core training with six specialty programs in Street Rod, High-Performance Power Trains, Applied Service Management, Chassis Fabrication, Advanced Diesel, and Trim & Upholstery.